Prices
Camping
Camping: Pr car/caravan NOK 180,-
Adults NOK 30,-
Children (4-12) NOK 15,-
Electricity NOK 35,-
Empty spill water and sewage (for those who are not staying) NOK 75,-
Campervan two persons and electricity is, by example, 275,- NOK per night
We only allow dogs in a few of the simple cabins, but not in the 25, 26 or 33m2 cabins. In 2021 we have also decided to move away from the tradition of guests bringing and using their own bedding and/or sleeping bags. Guests therefore pay extra and extra 75,- noper person for bedding, to avoid potential virus contamination, and improve hygiene. This demand might change based on the future contamination and corona
cases.

---
Prices cabins:

New Cabin, 33 m2 with equipped kitchen, nice bathroom with shower and toilet, 4-5 sleeping places, big terrace outside. High standard NOK 1220,-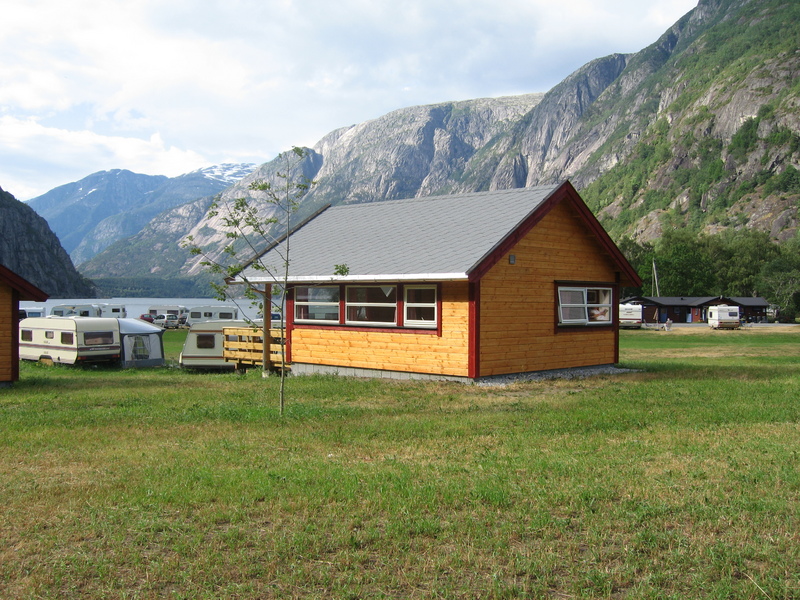 New Cabin, 26 m2 with equipped kitchen, nice bathroom with shower and toilet, 3-4 sleepingplaces, big terrace outside. High standard NOK 1010,-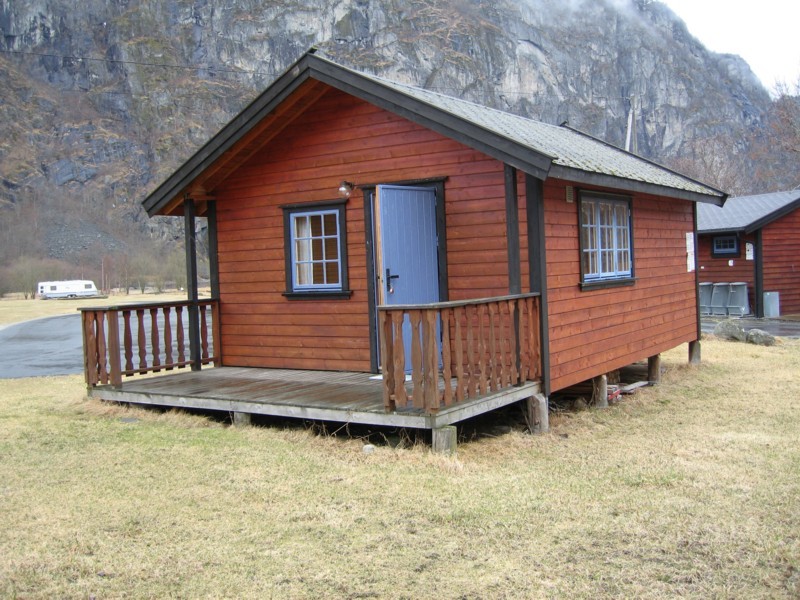 Cabin, 25 m2 with equipped kitchen, sleeping room with 4 beds, washing room with hot/cold water, double sleeping sofa in the living room, terrace outside: NOK 750,-
---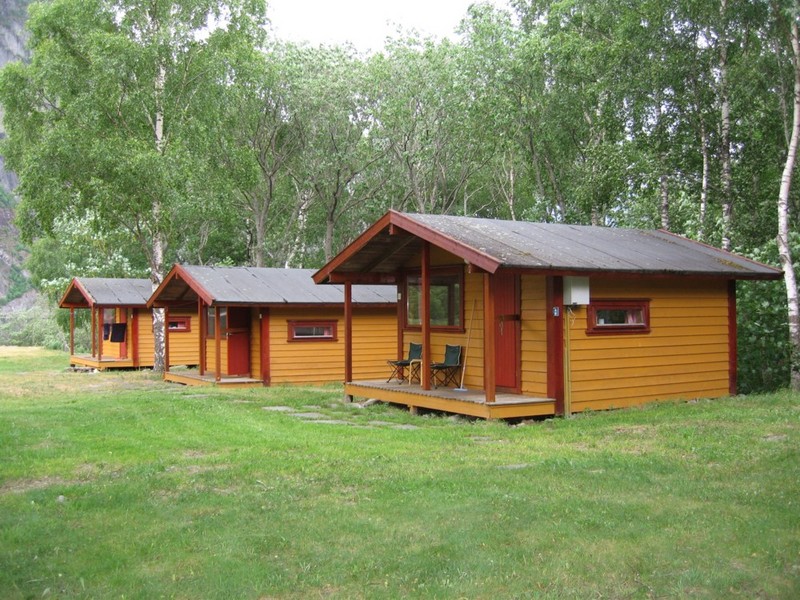 Cabin, 16 m2 with 4 beds, table and chairs, refrigerator and cooking plate (simple kitchen), terrace outside: NOK 550,-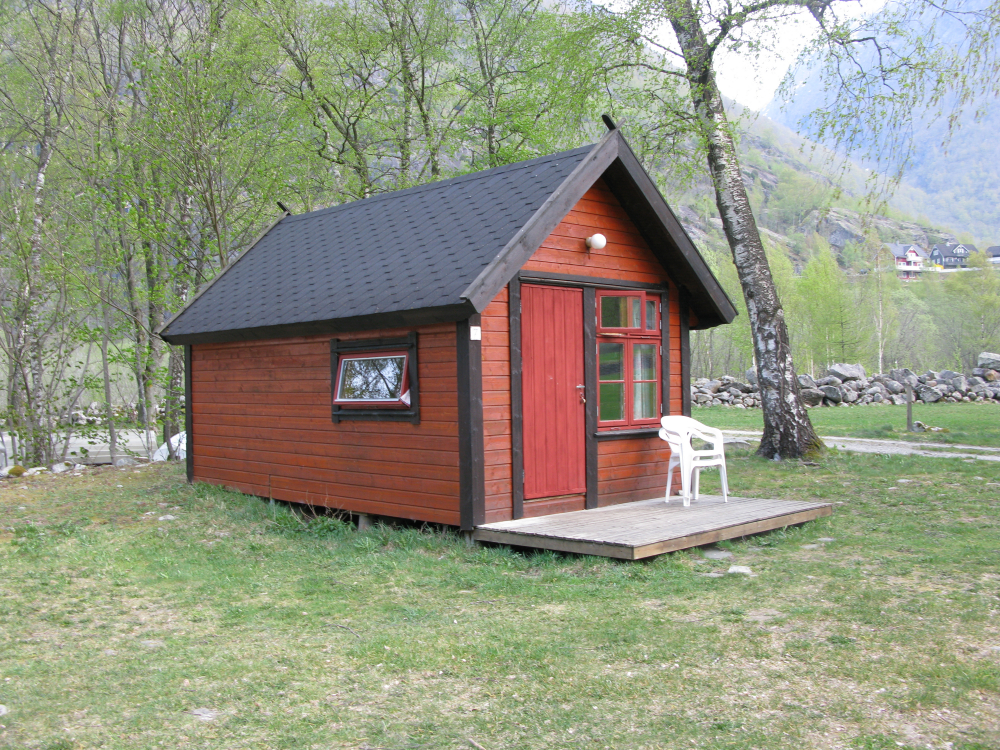 Cabin 12 m2 with 3 beds, sofa, table and chairs, fridge and hob, terrace with nice views. NOK 510, -

Reservation
For guest wanting to stay in a cabin, it is recommended you make a reservation. For campers/caravans and tents, we do not have numbered places, and let people choose their own place with some directions, also because we do not have electricity everywhere. We take reservations in the sense that we can guarantee a spot, but will not reserve a specific space but only make sure we have something left. In other words, the earlier your arrive, the more options you will have to choose from.
Welcome to Sæbø Camping!
Open 1st May- 30th Oct
---
Sæbø Camping is located in Øvre Eidfjord, approx. 300 m from the main road 7 which is the main thoroughfare from Oslo to Bergen.
The camping site is situated in beautiful and quiet surroundings between high mountains by the shore of Lake Eidfjord. The site covers an area of 30.000 m2. 2/3 is camping area, the rest is covered by forest. The terrain is flat with open grass-field split up by small groups of trees. Next to the site runs the salmon- and trout-river Bjoreio.
Capacity: 14 cabins (4 - 6 beds)
100 campingunits
60, 10-16 Amp, el-outlets for caravans/mobile
The servicebuilding is recently extended/rehabilitated and contains:
Reception and kiosk. -Fresh breakfast-bread every morning.
Wireless internet.
Toilets.
Separate cabinets with sink, hot/cold running water and el- outlet.
Showers with hot/cold water (10 nok coin-automates). Heated floor.
Facilities for people with a disability, shower and toilet. Heated floor.
Family room and changing room for babies. Heated floor.
Laundry-room with washing machine, cloth dryer (3x 10 nok coins)
Dishwashing rooms.
Campingkitchen with stove, oven, workbench and sinks for dishwashing.
Room for disposal of chemical toilets and outletwater from caravans.
Freshwater for caravans.
For fishing and in the Eidfjord Lake we usually have boats and canoes for rent (although currently not for the 2020 season).
The camping site has a well-equipped playground for children.
Attractions
In Øvre Eidfjord you find Hardangervidda Nature Centre and Hardangerviddahallen, a very good restaurant. Near the camping you also find Best Advetures activity Centre, the biggest outdoor activity company in Hardanger. They offer among Glacier Expeditions, Sea Kayaking, River Kayaking and Rafting Power Kiting and Archery Sport. Activities for the whole family from beginners to experts. Open all days in season: 1/5 – 1/ 10 .
In Eidfjord (6 km away), which is a larger village with supermarkets, and other shops, postoffice, cafes and a good tourist information. Øvre Eidfjord is the last settlement before the road rises up to Hardangervidda, the largest mountain plateau in Europe, and a good starting point for walking in the mountains.
ARDANGERVIDDA NATURE CENTRE is a lively, multicoloured experience centre: Ivo Caprino Super videograph with 200 seats and five screens,3D models, Interactive videos, modern aquarium section, 700 m2 exhibition area, a good restaurant and a big souvenir shop. The centre tells you about Hardangervidda and the inner fjord regions, about nature and how it is traditionally used.
The Måbø Valley and Vøringsfossen shows the arterial roads through the wild and beautiful Måbødalen, to the modern main road that mainly runs through tunnels. The touristic pattern of movement in this area, is cuurently underdevelopment with a viewpoint which can be accessed from Fossli Hotel. The popular cycling and hiking road, which used to be a narrow road for cars, is closed due to an increase in heavy rockfall, but it is still possible to walk down to the river and waterfall from Vøringfoss cafeteria. Fishing license can be bought in the reception (Sæbø Camping), for 50,- nok, and be combinded with seeing the waterfall from below.
SIMA HYDROELECTRIC POWER STATION - one of the largest and most modern in Northern Europe. Unfortunately no longer available for guided tours.
SYSENDAMMEN, 1.160 m wide and 84 m high stone levee for the main water storage for Sima HPS. Seen from RV7. Parking
HJØLMODALEN, is the third most popular staring point for hikes in the Hardangervidda National park. Anywhere from a 1,5 hour hike to several days of hiking (ask us for details). Take off from Road 7 just 150 meters after exiting the campsite in the direction of Eidfjord, drive through the village, and continue up the steep and narro road elevating 880 meters in 11 km. Passing an old farmstead inhabited from the 1600s until 1990 after about 5 km, followed by a the parkings one after 10 km and the other at the end of the road. Despite what you travel guidebook tells you, this is not a place to drive with a motorhome. The road is owned, maintained and used mainly by local and regional farmers, so please be respectful.
KJEÅSEN montain farm, 600 m above the fjord. You may walk to this taking a left when you come to a crossroads by the end of the Sima fjord, following a sign at which a hiker is diplayed. Park by the parking at the end of this road, and follow the trail starting along the Fjord. This is a steep trail in which there is a rather exposed log you wlak on for a couple of meters while holding onto a rope. More comfortable to do on a dry day. In case you want to drive all the way up to the mountain farm, continue on where you take a left when doing the hike, and take a left by a sign informing you you can ONLY drive up every whole hour, and down every half hour. This is because the road is narrow, especially in the tunnel.
HARDANGERJØKULEN glacier - seen from RV7 or can be reached by some hours walking.
HARDANGERVIDDA National Park is with its 3.430 km2, Norway's largest national park. With the special landscape, nature, arctic flora and fauna. Plenty of longer and shorter hikes to do in the area, but we are happy to help in the reception
Kontakt
Sæbø Camping
Eidfjordvegen 151
5784 Øvre Eidfjord
Norway
Tlf: 53665927/94982862
E-mail: post@saebocamping.com
For reservations, we prefer you use our e-mail address.
GPS-koordinater:
Euref89 – geografiske:
N 60°25´33,3" WGS84
E 7°07´18,8" WGS84
Euref 89 – UTM sone 32:
Nord 6700320
Øst 396600
About us
Sæbø Camping is a family business that has existed for over 80 years and is now owned and operated by Håvar Opstad Sæbø, who is the 4th generation of managaers. I have ambitions to invest, expand and upgrade as soon as the pandemy is under control and there is a sustainable and economoical room for investing in a higher electric capacity, a modernised playground area, a refurbished and potentially expanded sanitary and upgraded and/or newer cabins.
It was Lars L.Sæbø who once in the 30s started work on building a campsite on the scenic river delta at Eidfjordvatnet, after having tried his luck digging gold and working as a timbermann in Alaska. Since then it was, in combination, used by camping guests and for agriculture until it became a full-fledged campsite in 1994.
Today, the space has 100 spacious pitches, 20 permanent seasonal spaces, 14 cabins and a modern and well-equipped service building. There is also plenty of outdoor space for recreation and activities.
We want the guests to enjoy themselves at Sæbø Camping and place great emphasis on service and hospitality.
På Sæbø Camping har faste gjestar campingvogn med selvbygga og tilpassa platting foran vogn og fortelt oppå. Fordi me kun er ope om sommaren og 89 % av aukans besøkande var internasjonale i 2019, har faste gjester tradisjonelt sett vore ein liten del av aukans trafikk og satsing. Mange med fast campingvogn forvente idag å kunne ha spikertelt, men det har me ikkje tillatt så langt og har med infrastruktur, i tillegg til kva som er mest berekraftig per idag, å gjere. Me har i 2021, 14 faste campingvogner, som har vore hjå oss i alt frå 15-53 år, og ønsker nye faste besøkande velkomne! Pris er 6000,- for sommerleie og 1500,- for å lagre vognen på same plass på vinteren. Strøm kjem i tillegg. Vi har for tiden 4-6 ledige faste plasser. Nokre har vore i kontakt allereie men, det ser ut til at ein del vegrar seg på grunn av det ikkje er heilt same komforten som med spikartelt, og at det er ein del arbeid med å forankre vogn og bygge platting. Kort fortalt må vognen forankrast med jordspyd og jekkestroppar, og platting må ikkje gå ut over størrelsen på forteltet. Me kan vere behjelpeleg med forankring og bygging av platting mot betaling.